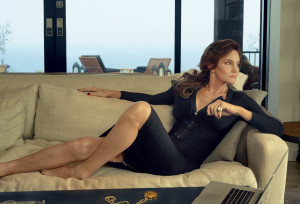 On June 1st, photographs of a woman formerly known as Bruce Jenner were all over the media as images from her Vanity Fair photo shoot were released, and she introduced herself to the world as Caitlyn. If your children watch television or go online, they have heard or seen something about this story. This means they may have questions. How should parents talk about Caitlyn, especially with younger children?
I have already heard from parents who are nervous about trying to discuss this story – and understandably so. Most people grew up in a gender binary society, understanding only that there are men and women; that people are either male or female. These adults are trying to understand themselves what it means to be transgender before they feel they can answer their children's questions.
One thing to always keep in mind is that there is absolutely nothing you cannot discuss with your child. What is key, however, is how you talk about something so they don't become overwhelmed or miss the point. Some general rules to follow:
Keep it simple. Provide information in small pieces. If your child has additional questions, they will ask.
Say "I don't know." If your child asks you a question you don't know the answer to, don't make something up. Tell them you think it was a great question; that you're not quite sure of the answer, but that you can find out. Then go online to get the answer.
Ask for help. If you have a transgender person in your life, you can ask that person their advice for how best to talk with your child about Caitlyn. Be sensitive when asking this, however, because some trans people do not wish to be set up as the "trans expert" with the people in their lives. You can also simply go online to find some basic information to share. Remember, though, that a lot of the information online is not for younger children. A good place to start is PFLAG – Parents, Friends and Family of Lesbian and Gay (and Transgender) people.
Use teachable moments to reinforce universal values. Caitlyn's transition, and the manner in which people are responding to it, is about far more than her and her gender. It is about what she did in order to live the remainder of her life genuinely and happily, and how people are responding to her decision to do so.
So if it feels daunting to try to explain what it means to be transgender to your child, here are some other messages you can share with your children using Caitlyn's experience as an example:
Respect others. Share some examples of how people responded positively to Caitlyn, as well as some where people said offensive things about her. Ask your child why they think people would say negative things, and how they think it made Caitlyn feel. Ask for examples of when they've seen kids at school do the same to bring it back to their day-to-day lives. Remind them that we should always treat others with respect, just as we wish to be treated with respect ourselves.
Diversity is good. Remind your child that they will have people in their lives who are similar to them, and those who are different. People will be of the same race or ethnicity, religion, family structure, gender and so on – and others will not. If someone is different, it does not make that person any less – or any more — special than anyone else. But having different people in your life makes life interesting and richer. Go through a few friends and family members and talk about what your child feels they have in common with these people and what they don't; what they think is good about that, and what they wish were different.
Unfortunately, diversity sometimes means inequality. While emphasizing how life-enriching diversity can be, it's also important to highlight that some kinds of diversity means people won't have as much access to what they need to be able to do what Caitlyn did. For example, you can say, "Caitlyn's surgery was really expensive, and health insurance doesn't always cover it. That means people who feel the same way Caitlyn did but who don't have her money or come from her background may not be able to actually have surgery so their body matches how they feel on the inside." For younger kids, that's about as far as you can go. Trying to discuss the complex intersections between socioeconomic status, race, immigrant status, and other factors that can affect whether someone can access sex reassignment surgery will be way over their heads!
Be yourself. It takes courage to do something when you know people might disagree with what you're doing or make fun of you for doing it. Talk about the kind of courage your child perceives someone like Caitlyn needed to have in order to transition the way she did. Ask your child to share examples where kids their age have shown courage in order to be true to themselves.
Some things can stay private. It may sound funny to talk about privacy using a celebrity as an example, especially one whose life has been made public by her own doing through her "reality" tv show and other media. But you can take advantage of the ubiquity of Caitlyn's story to explain that even if a person shares some things about themselves, it doesn't mean we have a right to know everything about that person. Each person gets to decide what to share about themselves and what they choose to keep private. This can provide a great segue to talk with your kids about technology and social media and what you do or don't share with people you do not know well or at all.