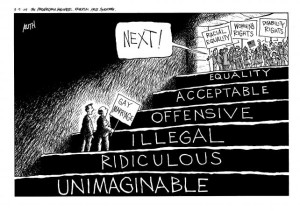 On Friday, June 26th, the US Supreme Court made history in its 5-4 ruling that same-sex couples have the Constitutional right to marry nationwide. As supporters of the decision in Obergefell v. Hodges celebrate the right that they, their friends or their loved ones now have to marry legally in all 50 states, opponents claim the decision forces them to do something they do not wish to do – specifically, to acknowledge that lesbian, gay and bisexual people are equal to them. This concept is so abhorrent to some heterosexual individuals and conservative religious groups that they would rather outlaw all marriages than allow same-sex couples to marry, and have vowed to "fight for the freedoms of all Americans" (in this case, of course, "all" means heterosexual, Christian Americans).
Obergefell v. Hodges is about far more than marriage. Being granted the right to marry – the right to be seen, under the highest law of the land, as an equal human being with equal rights — is monumental. There is an ugly history of lesbian, gay and bisexual people being murdered, beaten, tortured, raped and forced into electroshock and other so-called "corrective" therapies. In many states and countries, this is not history — homophobia is alive and well, ranging from slurs and bullying to extreme inhumane practices like throwing gay men from buildings to their death or raping lesbian or gay people to try to "make" them heterosexual.Obergefell, therefore, as well as any other victories, large or small, is about the humanization of a population that has been and still continues to be systematically dehumanized.
No Laurels, No Rest
Supporters of Obergefell should enjoy this victory – but anyone who is socially liberal or progressive cannot rest on their laurels for more than a few days. Because this decision in no way represents an end to the oppression of LGB people. For those social and religious conservatives who are unhappy with the decision, it creates a challenge – one that promises to ignite a backlash against LGB people as well as other populations that are not part of the power majority in the US.  Nothing mobilizes a population like a fight – especially when they perceive their religious freedom is being threatened.
Lessons Learned from Obergefell
Our country – in fact, the world – took a huge leap forward with Obergefell. We need to take advantage of this momentum and keep it going, for LGB people and for all who are not being afforded the rights they deserve. As we look to the future, a few things to keep in mind:
Homophobia did not end on June 26th. While a heartening number of social conservatives have realized that some people – particularly elected officials – went too far in how they characterized their opposition to same-sex marriage, homophobia is a deep-seated disgust and hatred for lesbian, gay and bisexual people. Just like racism, sexism, ableism and any other "ism," homophobia is inculcated into people from very young ages and reinforced over time. It will take time, therefore, for attitudes, values and beliefs to catch up with a ruling like this. Loving v. Virginia, which ended all legal restrictions nationwide relating to marriage and race, did not eradicate racism – far from it. Now consider the layers of discrimination for someone who is gay and a person of color… and physically challenged… and so on.
Lesbian, gay and bisexual people do not have equal rights beyond marriage in all 50 states. Most states do not have any laws protecting LGB people from discrimination in the workplace, in housing, or in finance (such as banking or taking out a loan). So while it is great that LGB couples can get married – it is equally important that they do not lose their jobs or homes for doing so.
What about the "T"? We continue to throw together "LGBT" as if they are all the same thing, but they're not. Being lesbian, gay or bisexual has to do with one's sexual orientation – the gender(s) of the people to whom one is attracted. Being transgender has to do with one's gender identity. A transgender person can be heterosexual, lesbian, gay, bisexual or another orientation. What this means is Obergefell v. Hodges had zero impact on transgender people, unless they are in a same-sex or -gender relationship. Civil rights for transgender people have made some advances in recent years, but we have far to go here.
Enough with the racism already. Growing up with a mentally challenged brother, I was surrounded by people using the word "retard" to describe people and things they thought were stupid – as too many people today still use"that's so gay" to do the same. I learned from a young age that if it isn't okay to discriminate against one group, you cannot possibly justify discriminating against anyone else. How do we, as a society, not get this simple lesson?How can we, as a society, justify dragging our heels on truly and aggressively combating racism? Why did it take the murder of 9 people in a South Carolina church for people to take down one of our country's clearest symbols of racial oppression – which, as of the writing of this piece, still waves in Charleston,Bree Newsome's efforts notwithstanding? By all indications, it will come down, and soon – but it should not have taken this long.
We Need to Do More for Positive Social Change
There is a heartening and heightened awareness that people in the white, heterosexual, Christian power majority need to do more – but we also need to see less self-congratulatory behavior on social media from people finally recognizing their own privilege, and much more meaningful action. We need more than changes in laws and policies; thus far, they haven't been so effective at dissuading violence against transgender people, or racists from discriminating, hurting and killing people of color. We need to make a seismic change in the attitudes of people who have been told since birth that being white, heterosexual and Christian makes them superior to anyone who is not.
We also need to make equally seismic change among people who have historically been targets of racism and ethnocentrism to end their own discrimination of others. This means working with communities of colors to stop perpetuating homophobia and transphobia where it lives within their communities, particularly in religious institutions. If it's wrong to be racist, it's wrong to be homophobic and transphobic. We need to stop addressing social injustice in silos, and embrace the idea that social injustice against some is social injustice against all. The power majority is a huge part of the problem — but it is far from the only part.
Granting equality is not about granting superiority, nor is it about taking something away from anyone else.  If we do not believe that, we will continue to see social change happen at a glacial pace. The backlash against Obergefell has started, and is only going to accelerate. We must take advantage of the momentum created by this decision and make real, meaningful changes for all people that will last well into the future.