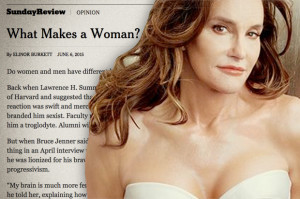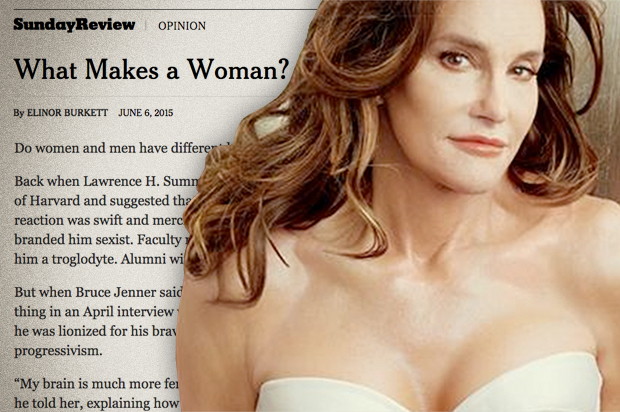 I am sure I was not the only one stunned by the initial, overwhelmingly positive response to Caitlyn Jenner's coming out on Twitter. To be sure, there were ignorant, hateful responses as well. But the volume of positive support was extremely heartening to see.
There have also been very insightful pieces written by some well-known trans women about other aspects of coming out and transitioning, including Laverne Cox's Instagram post and Janet Mock's website essay.
As I watched all the positive responses continue to populate the internet, I knew it would only be a matter of time before the deconstruction of Jenner, her identity and her transition would begin.
Missing the Point on Gender Identity
For me, this started with Elinor Burkett's opinion piece for the New York Times on June 6th. As I read her piece, to quote Burkett herself, "a part of me winced." I will start by acknowledging that she has every right to feel however she feels about Jenner's transition – but I have an equal right to point out some glaring hypocrisies relating to how Burkett – and some other people – are viewing gender within the context of this transition.
We have all grown up in a gender binary world. Although transgender people have likely always existed, the dominant culture has been and remains comprised of cisgender boys and men; girls and women. "Cisgender" refers to people who were born with particular body parts and assigned a name based on those parts (boy or girl), and whose inner sense of their gender matches that name that was assigned to them. As transgender people – those whose inner sense of gender does not match their body parts — have continued to fight for equal rights (for an end to workplace discrimination, for the right to be recognized as the gender they identify as, regardless of what their bodies look like and for access to affordable healthcare that enables them to change their bodies to match their internal sense of who they are), their visibility has increased.
Being Transgender Has Zero Impact on Being Cisgender
With increased visibility comes pushback, ridicule and in extreme cases, hate crimes. Because for many cisgender people the idea of a third gender, or of understanding someone as one gender and then seeing that person alter their bodies to become their true gender, is threatening, even terrifying. For example, Burkett seems to feel very strongly that a growing acceptance of transgender women will minimize the social progress and recognition cisgender women have fought for centuries to obtain.
What she doesn't explain, however, is how. (This sounds frighteningly close to the heterosexual people who claim allowing same-sex marriage will ruin the sanctity of their own marriages.) It is a convenient omission for what boils down to Burkett not liking Jenner presenting herself as a gender role stereotype.
Fighting – and Celebrating? — Gender Role Stereotypes
As a sexuality educator, I have worked for years with people who are equally committed to promoting gender diversity and fighting gender role stereotypes. What has been largely missing from the discourse, however, is the acknowledgment that if we truly believe in gender diversity, then we must be just as accepting of those who fulfill stereotypes as we are of those who break them. If we truly believe people have a right to self-determination, to make decisions about their own bodies and how they use them, then we need to acknowledge that Jenner has every right to characterize herself as a "sex kitten."
Now, I wholeheartedly believe that stereotypes can be hugely problematic – but they are problematic when we reduce people to those stereotypes; when we say "girls can only do this," or "you're not a real man if you don't do that." They are problematic when we determine, as a culture, that there are gradations of what the dominant culture defines as "real;" being a "real" man or a "real" woman. And clearly, Burkett and others like her do not see Jenner as a "real" woman because she has not had the lifelong experience of being a cisgender woman. I do not agree, nor do I think it does any of us any good to see gender equality as a competition.
"Nail Polish Does Not a Woman Make"
Perhaps Burkett's most hypocritical statement is her closing line, in which she calls out Jenner's excitement over being able to finally wear nail polish without negative social consequences. In writing, condescendingly, "Nail polish does not a woman make," Burkett insensitively misses the point. Jenner is not saying, "You're not a real woman if you don't wear nail polish," she is describing something she has wanted to do that she has always associated with being a woman, but that she couldn't. By minimizing this, Burkett is doing exactly what she accuses the male power majority of doing to women over the decades – reducing Jenner to a behavior or activity, rather than a person who takes pleasure and delight in this behavior or activity.
So let me pose the question I ask in the title of this piece: "Who's in charge of gender?"
The answer is, no one. We all have the right to conceive of ourselves and our gender in ways that make sense to us.
But then again – it's always a bit more complicated than that, isn't it?